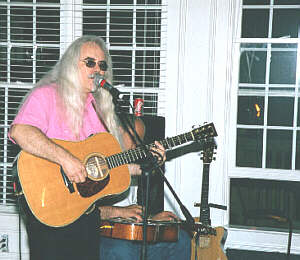 Book a House Concert


I know that a lot of folks who buy records by me and many other Americana artists don't come out to our live shows...and for good reasons. Perhaps number one among those reasons is the fact that the whole club scene just doesn't work for them. Smoky atmosphere, late show times, long, late night drives home are valid reasons for not supporting live music. The fact is that we, the artists, depend on both live shows as well as merchandise sales to survive. What if you could have your favorite artist come to your house instead? What if you could have your own private concert in your living room or on your deck? Why not? The folkies have been doing it for years... it's called a "house concert."
Here's the basic scenario:
You contact the artist and set a date. It can be, and usually is, on a weeknight. The week ends are our prime working nights in clubs, festivals and concert halls. Let's say good old Michael Reno is gonna be through your neck of the woods on a Tuesday and needing a place to play. Typically Tuesdays are hard to book since not many venues book acts on nights early in the week. It would be mutually beneficial to both the artist and you to have a show on that night. So, Tuesday the 18th it is.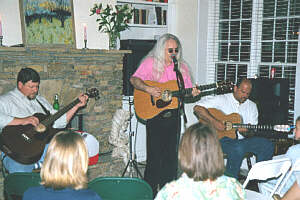 Now how do you afford to pay Michael to have him perform for you? Invite your friends! Think of about twentyfive or thirty more of your friends and family who either already like Michael's music or to whom you would like to introduce him and send out a flier. The invitation states: "In order to have a personal concert and sit within twenty feet of the artist in a smoke free environment we are asking for a $15-$20 donation." It's just like any event, it takes a little planning to make it a success. Start a couple of months in advance and follow up with your guests. Serve some beverages, put out some chips or have a potluck and take up the donations.
"How can I get twenty-five people in my living room?" Again, it takes alittle planning. Move the coffee table into a bedroom, borrow some folding chairs, use the kitchen chairs, put pillows on the floor. Give the artist a corner. Sometimes the performer can be set up in a spot where he can be seen from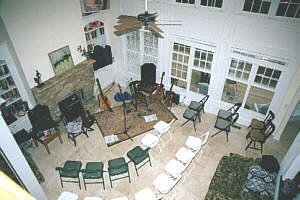 two rooms at once, so set up two separate seating areas. Make sure to inform folks to arrive promptly at say 7:30. Get everyone into their seats by 8:00. Now, thank everyone for coming, introduce your favorite performer and sit back and enjoy the most satisfying concert of your life. The artist plays for an hour and a half or so, sells a few CD'S....and your guests are home by 10:00. You, of course are having good old Michael Reno stay in your guestroom/on your couch...so you get to wind down and ask all those questions you've always wanted to ask about songwriting, etc. Up in the morning... a quick cup of coffee and everyone is on their way.
If this way of enjoying a Michael Reno Harrell concert sounds like something you might want to do... we'll be more than happy to help you pull it off. Simply call 704.222.6177 and Joan will get you started.
Or and let us know you'd like to discuss a house concert.
Hope to see y'all soon,
Michael Reno